I'm learning more about using colored pencils with the
Classic Sketchbook: Botanicals:
Secrets of Observational Drawing by
Valerie Baines
. This 112 page paperback was released Jan. 1, 2017 from
Rockport Publishers
. It's a beautiful 8.5" x 10" workbook about botanical illustration with colored pencils. Colored pencil art is becoming very popular. The author, a noted British botanical artist, guides you through 48 practical exercises, helping you to observe, select colors and draw. You add the colored pencils. The author lists 20 colors she finds most useful for botanical work. An exquisite collection of works by classic botanical artists serves as both inspiration and study. Valerie emphasizes analyzing these to gain a better understanding of values, composition, color etc. The floras are listed seasonally. For each plant: read the lesson notes, study the masterworks and draw. A demo sketch gets you started. Would you like to improve your colored pencil artwork?
Get your copy below!
CONTENTS
Introduction
Tools and Materials
Sketchbook Opener
Crocus
Pussy Willow
Spring Flowers
Narcissus
Primula
Lily of the Valley
Violets
Still Life with Flowers and Strawberries
Striped Tulip
Three Tulips
Still Life with Tulip, Melon and Flowers
Three "Broken" Tulips
Hyacinth
Strawberry
Apple Blossom
Iris
Bearded Iris
Hydrangea
Summer Flower Studies
Poppy: Pavot
Poppy
Anemones
Belladonna Lily
Lily
Agapanthus
Rosa Gallica
Branch of Roses
Still Life with Roses
Pink Rose with Buds
Bengal Rose
Eglantera Rose
Old-Fashioned Roses
Yellow Rose
Dandelion
Peony and Double Poppy
Peony
Cape Blue Water Lily
Water Lily
Morning Glory
Peach
Chrysanthemum
Yellow Chrysanthemum
Autumn Leaves
Oak Leaves and Acorns
Apple
Stone Pinecone
Eastern Pinecone
European Holly
About the Artist
Acknowledgments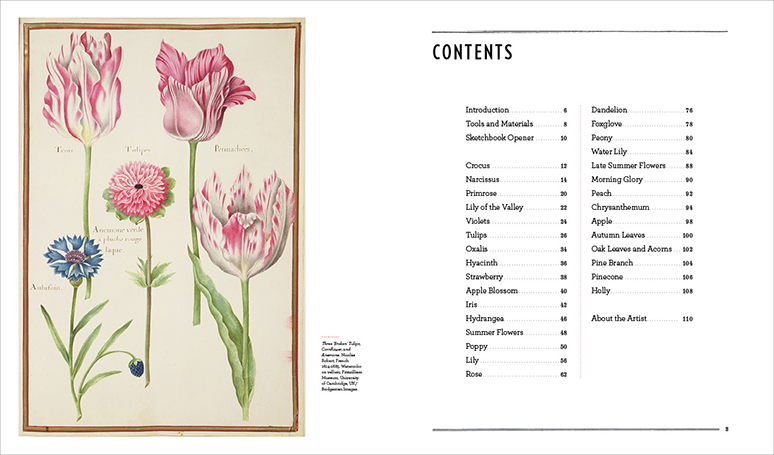 Page 4 & 5. Tulips, Cornflower and Anemone. Nicolas Robert (1614-1685) French.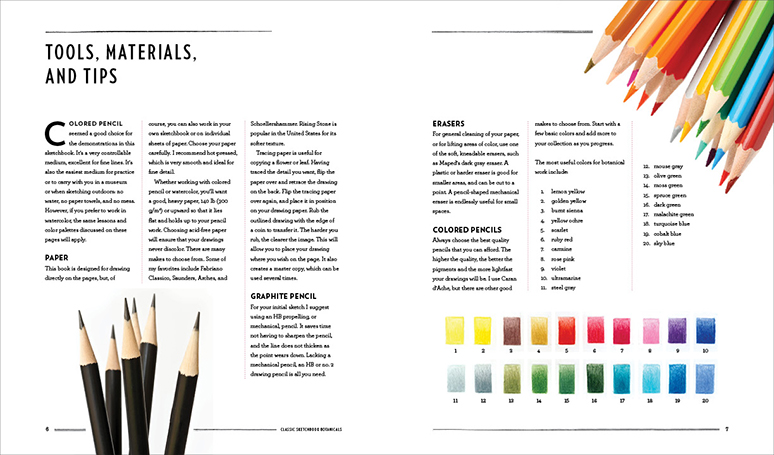 Page 8 & 9. Tools, material and tips.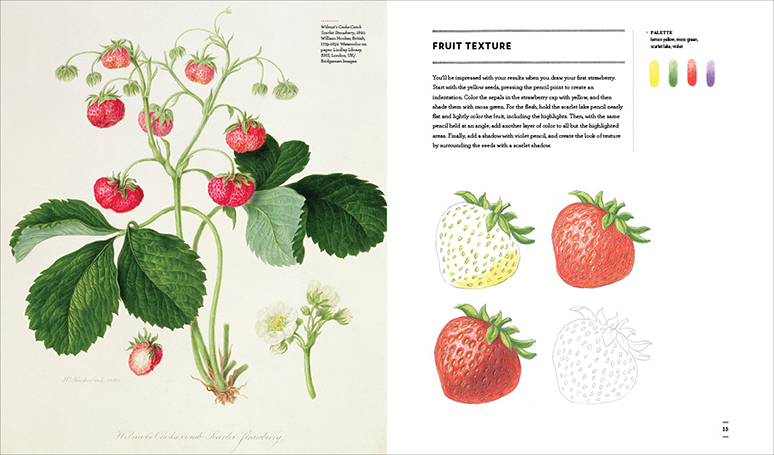 Page 38 & 39. Scarlet Strawberry. William Hooker (1779-1832) British.
Page 78 & 79. Dandelion. William Kilburn (1745-1818) Irish.
Page 24, violets by classic artist for study. Page 25, lesson notes, palette and demo sketch. My 5 color palette is set out and I've begun working on the demo sketch.
Classic Sketchbook: Botanicals
is available worldwide at
Rockport Publishing
, a division of the
Quarto Publishing Group USA
. Check out their unique catalog at
Rockport Publishing
. Quarto has generously offered to
giveaway
a copy! One winner will be selected at random. Open until October 6, 2017. Prize includes cost of shipping.
Canadian and USA
addresses only. Good luck!